Football tournaments are a fascinating part of soccer that provides a lot of excitement – whether at the professional or amateur level. In addition, in younger groups, it is great fun for kids, a chance for them to develop and test their skills against real opponents, and an opportunity to promote themselves to take the next steps in their football adventure.
If anyone has ever attempted to organize or interact with a preparation staff at least once, they know that it's not quite as simple as it might seem. On the head of the person in charge is, among other things, inviting the right number of teams depending on the available infrastructure, preparing and marking the fields, providing medical services, booking a date for the tournament in advance, contacting potential or regular partners and sponsors who could provide support… These are just a few of the basic elements. Where in all this do we still find the time to happily take care of what we are aiming for, which is the organization of the games themselves?
We need to make phone calls to coaches early on. We try to sign up potential applicants on an ongoing basis, completing our list. We create a preliminary schedule, revised more than once, from which less and less goes unread.
We introduce a preliminary division into groups and hope that through random situations no team will crumble, because it will cause us, another search and additional stress. Everyone wants to perform as well as possible so that the participants will be happy to attend future editions, however, the additional stress and chaos can have quite an impact on their decision-making in the future.
What other problems and challenges do we face in organizing tournaments?
1. Going for the easy way
.
Picking the same surrounding partners over and over again is often the preferred solution. It is used when the tournament start date is approaching and we have a much smaller number of teams than we anticipated. After all, we know the academy well, we have good contact with the coaches, so they certainly won't refuse us. This is a solution that gives us the opportunity to hold a tournament, but in the short term. Shouldn't it be that each new competition we participate in develops our team? The opportunity to face peers at different levels, finding ourselves in new field circumstances will certainly pay off in the future.
2. Finding teams
.
We mentioned this a bit above. Searching for teams depending on the date, location or one's own contacts can be more or less problematic. A recurring process is the stage of making a dozen or more phone calls to the nearest clubs and coaches inquiring about their willingness to participate, while explaining the tournament formula, the costs involved in participation and answering a few more questions. In addition, with each change we have to inform each potential opponent of the change, proposing new solutions – which also takes us a considerable amount of time. In addition, each time we count on the fact that no team will "get off", especially a few days before the start of the tournament.
3. Selecting the sports level of the opponent
.
An important aspect to take care of is the level of competition of the participants, so we need to have some idea of the potential of the teams in a given yearbook. We don't want any of the teams we invite to leave with a sense of too much disparity, especially at the youth stage. We want them to remember our tournaments in the future and come forward without undue insistence. What can we do? If time permits, we can go to some match or tournament ourselves to form an opinion based on observation, or once again try to get in touch with someone who already has such knowledge and would like to share it with us. Both cases are linked by the passage of time.
4. Schedule
.
Once we have managed to complete the tournament cast, the next complicated and time-consuming step is to prepare the schedule. Of course, if we have a certain skill, we create the same beaten schedule or we support ourselves with those found somewhere on the Internet, or previewed at other tournaments. We must remember to enter pairs in such a way that one team does not play matches in a row, while another team does not wait too long. The strikethroughs, arrows, and placement of pitches do not help the legibility of our notes, and if we are using a laptop, typing manually into the program already with several teams unnecessarily takes time. As you can see, there really are quite a few elements that go into putting everything together. A deep sigh sitting down to the schedule of the next tournament, maybe it will make you think, why not open yourself to new possibilities, make your work easier and change the game data in a simple, pleasant and practical way?
5 Communication
.
Tournaments, are a great opportunity for promotion, attracting the interest of maybe the media, maybe the authorities, maybe partners who would accompany our games. On top of that, we want as many fans as possible to sit in the stands, including, of course, parents supporting their kids. Deciding to drive often hundreds of kilometers, everyone wants to be up to date so as not to miss their team's match. Before the start, the search for information about the specific location of the games or the schedule will begin either on the organizer's website or Facebook fanpage, perhaps scrolling back through the news or looking for a download. On the other hand, already on site, circling the facility in search of an information board. Printing posters or information boards involves additional costs, so organizers would rather avoid this. The communication process is one of the key elements to avoid constant unnecessary questions and announcements of further meetings and results.
6 Summary and filing
.
Which place did we take in the group? What is the classification of scorers? Who do we play against tomorrow? Which team has the better goal balance? The mass of questions generated over the organizer's table can give you a headache. Showing on cards the course of the tournament, the tables counted up quickly just after the end of the last games, we must admit – it does not look very professional. On top of that, in the chaos, it's harder to search for the right line in the notes on a laptop or those written down on a piece of paper. If we don't keep the file and the accumulated paper notes, which we're unlikely to do, the tournament will simply be ticked off without a lot of fretting and without accumulating statistics.
7 Results
.
Whether the results of matches are recorded by referees or other designated persons, they must be kept meticulously and error-free to avoid unpleasant situations. Every goal in the final analysis is of great importance. It is also an important element for latecomers, who, when they appeared at the facility already in their seats, inquire about it from the people next to them. The lack of a board where we could display it or write it in after each completed game, and an announcer who would take care of the order of the announcements, definitely works against us. With the passage of the tournament, it is difficult to remember the results of each game, yet everyone would like to be up to date.
8. Interruptions in the game
.
On more than one occasion, due to fortuitous situations, the games had to be halted, or in the worst case, canceled or rescheduled. Once we have everything set, at the very thought of making changes and postponements we feel a little irritated. Even the smallest situation, such as an injury to players, a sudden change in weather conditions or problems with teams arriving on time can drag on for minutes and hours. Getting out of this situation is a difficult task and, as a rule, lack of time and willingness makes us continue the tournament from a given place, with internally determined changes. This unfortunately translates into organizational chaos for the other participants in the event as well.
In summary, we have eight issues that are a tough nut to crack for tournament organizers. So how to deal with them?
Fortunately, with help comes the FCapp. With it, organizing a tournament will take not a few days, but a few minutes. Add an event, set up a game system and start accepting entries. Once you have assembled willing teams, start the tournament – the app will draw groups and generate a schedule for you. During the tournament itself, you or your referees will be able to add goals along with player statistics. The tournament table and scorer's table will be generated themselves.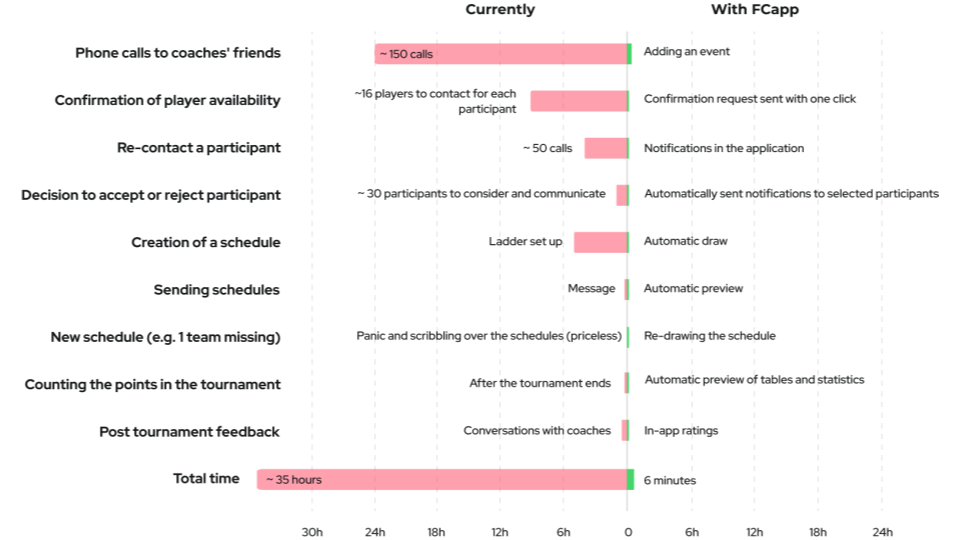 FCapp allows tournament organizers to mitigate the biggest organizational pain points. Why not take advantage of it? Go to fc.app and download the app!